Facade renovation is now underway (VIDEO)
It's exciting to see it finally happening! After years of preparation, design, and fundraising, the renovation of the new Mt. Lassen Theatre facade is underway. Construction and demolition began last week, and for the first time in over two decades we got to take a real look inside the infrastructure of our historical building. We've outlined a video and included photos so you can see its progress and stay in the know about what's to come. Great things are ahead, so stay tuned!
Check out more details in an article published in the Chester Progressive Newspaper: http://www.plumasnews.com/mt-lassen-theatre-renovations-include-modern-sound-system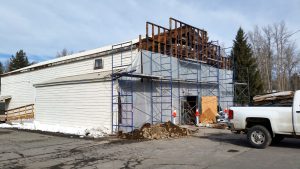 Womack Construction removing the former facade and setting up the scaffold.